There's so much stuff to cover and I have so little time to do it. Seriously, I've actually had some work over the last week, which makes a nice change from the state of relative unemployment I've occupied since graduation. But in other news, I did make it to
The Three Musketeers
this weekend. I was pleasantly surprised. I mean, I aware the movie basically terrible, but it was also pretty darn fun. Only time will tell, but it could find itself with
G.I. Joe
on the list of terrible movies that I watch when I want to have fun without needing to pay much attention. Anyway, I'm putting
Musketeers
at #9 for the year
. I'll probably comes to my senses later. We'll see. Anyway, this weeks links are after the jump.
Captain America Dog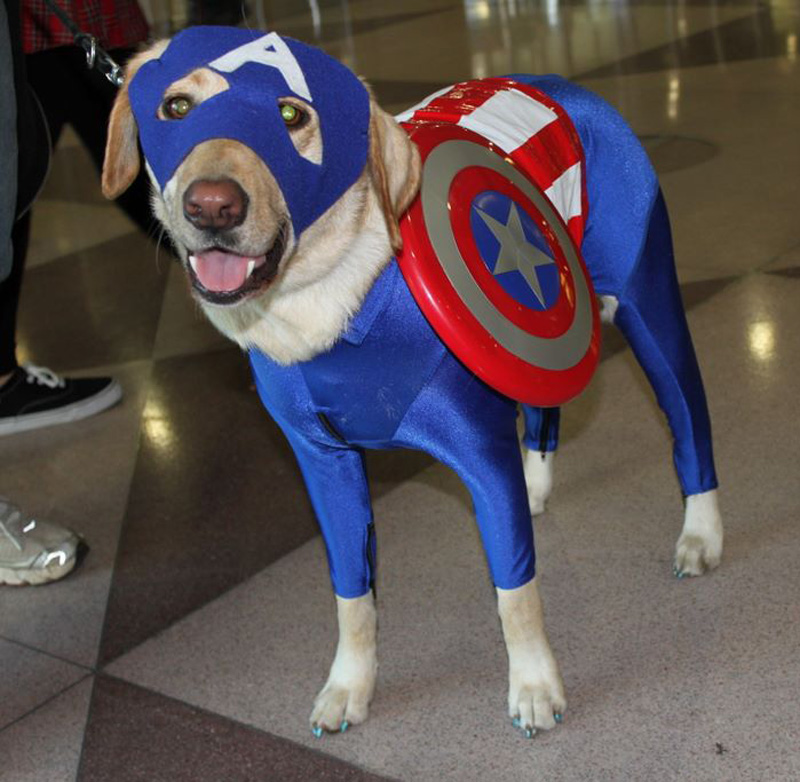 In the words of Stan Lee, "Nuff said." This comes from
Fanboy.com
and even though I'm generally opposed to animal costuming, this is awesome. Plus, you know he loves to play with the shield.
Second Marvel short online
Marvel's second short film, "A Funny Thing Happened on the Way to Thor's Hammer," is supposed to bridge the gap between the films, but all it really does is show S.H.I.E.L.D. Agent Coulson kick some ass. Not that I'm complaining, but all it really does is set up so that we won't be surprised when he lays the beat down on Loki in
The Avengers
. Watch the video at
io9
or
/Film
.
The Dark Knight Rises may preview with Mission Imposssible
/Film is reporting that an 8 minutes prologue
of the
The Dark Knight Rises
will show before
Mission Impossible: Ghost Protocol
on IMAX screens. If this is true, I'll almost definitely be heading out to see
Ghost Protocol
in IMAX,
especially since it's opening in IMAX a week early
. Of course this doesn't mean
TDKR
is finished filming, as
these rumors suggest
Batman
might be heading to
Occupy Wall Street.
The Punisher getting a TV show?
This story suggests
that Frank Castle AKA The Punisher AKA The most R-rated Marvel hero I can think of, is getting a police procedural TV show. The only way I can see this working is if FOX draws heavily from Dexter, and by heavily, I mean
really
heavily.
More here from io9
.
Terra Nova uses NERF guns as props
io9
points out that this semi-embarrassing fact
about TVs most expensive show, thanks to HD and print screen, but I really don't care. Nerf guns are fairly awesome in themselves, and the show also features dinosaurs.
Even the dinosaur with the most powerful tail ever
.